Green is back to the markets, with quite some strength this time. Litecoin and BNB are leading the wins, meanwhile Bitcoin seems to be getting ready for another attempt at gaining support over $4,000.

After stumbling below the $130 billlion range yesterday, global market capitalization for crypto markets has just reclaimed that level by gaining about $5 billion during the last hour.
With the latest pump, global market cap has climbed back to the same price range where it has been since mid-February, with the exception of a small weekend foray above $140 billion which coincided with Bitcoin's frustrated attempt to break above $4,200. Now, the first crypto is trying to reach for the $3,900 level.
Volatility has definitely arrived back to the markets over the last week, just as we straddle a complex price area that could determine the direction of BTC and the rest of the cryptos for the months to come. This tweet from @CryptoHispano reflects quite well the general mood amid the uncertain situation:
Crypto Twitter in the last 9 days pic.twitter.com/IoeqqOqN27

— CryptoHispano (@CryptoHispano) March 5, 2019
On the top 10 coins, at writing time best performers are Litecoin (LTC) and the Binance Coin (BNB), followed closely by EOS, with gains of around 16, 12 and 11% respectively. There is an interesting race going on between LTC and EOS for the fourth position by market capitalization, as EOS is currently only $100 million ahead.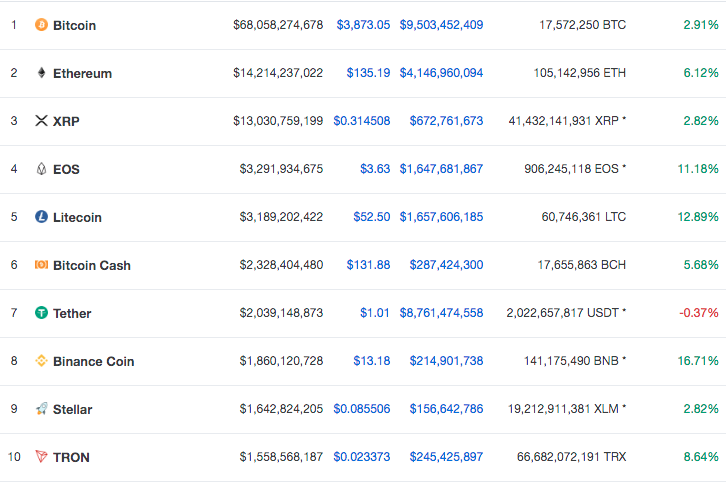 When opening up the scope to the remaining 90 cryptos on the top 100 tokens by market cap, Nexo and Aurora are the best-performing projects of the day with gains of 24 and 20%, respectively. On the red side of the table, Bitcoin Gold (-10%) and Odem (-5%) are leading the losses.
Read more: It's LTC time! Litecoin leading the market again today, reaching $52; The mobile app Spend now supports Litecoin
Follow Chepicap now on Twitter, YouTube, Telegram and Facebook!
Chepicap is here for you 24/7 to keep you informed on everything crypto. Like what we do? Tip us some Satoshi with the exciting new Lightning Network Tippin.me tool!
Read more: How to tip and receive Bitcoin via the Lightning Network with Tippin.me
(Excerpt) Read more
Here
| 2019-03-05 16:02:32