03:31
Despite its overnight dive, bitcoin has still more than quadrupled over the last year.
CNBC reports that there may be some profit taking:



The sell-off in cryptocurrencies comes after a huge rally and perhaps signals some profit-taking from investors. Bitcoin is still up over 340% in the last 12-months and last week hit an all-time high just below $42,000.

"The correction we saw was expected as we believe the BTC price surge recently from under $20,000 to $40,000 in the past four weeks will induce sell pressure," Simons Chen, executive director of investment and trading at cryptocurrency financial services firm Babel Finance, told CNBC.
Scott Minerd of Guggenheim Partners also reckons prices reached unsustainable levels in recent days.
Last month, Minerd suggested that bitcoin should be worth $400,000 on a 'fundamental basis', based on its finite supply and value compared with gold. Guggenheim outlined plans to invest in bitcoin last November, as a hedge against "rampant money printing" by central banks.
03:03
FCA: Five reasons to be wary of cryptoassets
The FCA says it has five concerns about investments which are offering the prospect of high returns from investing in cryptoassets:
Consumer protection: Some investments advertising high returns based on cryptoassets may not be subject to regulation beyond anti-money laundering requirements.
Price volatility: Significant price volatility in cryptoassets, combined with the inherent difficulties of valuing cryptoassets reliably, places consumers at a high risk of losses.
Product complexity: The complexity of some products and services relating to cryptoassets can make it hard for consumers to understand the risks. There is no guarantee that cryptoassets can be converted back into cash. Converting a cryptoasset back to cash depends on demand and supply existing in the market.
Charges and fees: Consumers should consider the impact of fees and charges on their investment which may be more than those for regulated investment products.
Marketing materials: Firms may overstate the returns of products or understate the risks involved.
02:46
Introduction: FCA warns of risky crypto investments
Good morning, and welcome to our rolling coverage of the world economy, the financial markets, the eurozone and business.
Britain's financial watchdog has just issued a warning to consumers tempted by the promise of high returns from investing in cryptocurrencies such as bitcoin – you might lose all your money.
The Financial Conduct Authority says it is aware that some firms are offering customers the promise of high returns through investing in cryptoassets, or lending or investments linked to cryptoassets.
Such offers, the FCA warns, are risky and speculative.
It also cautions that consumers who put funds into cryptoasset-related investments are unlikely to have access to the Financial Ombudsman Service (FOS) or the Financial Services Compensation Scheme (FSCS) if something goes wrong.
The FCA says:



Investing in cryptoassets, or investments and lending linked to them, generally involves taking very high risks with investors' money. If consumers invest in these types of product, they should be prepared to lose all their money.

As with all high-risk, speculative investments, consumers should make sure they understand what they're investing in, the risks associated with investing, and any regulatory protections that apply.
The FCA's warning comes after cryptocurrency assets have shown huge gains in recent weeks. This morning, though, the market is sliding.
Bitcoin has tumbled back to around $34,000 — or around 15% lower than its value over the weekend (at one stage it fell below $33k, before rebounding).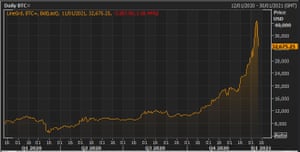 This comes after bitcoin surged through the $40,000 mark for the first time back on Thursday, doubling in price in just five weeks.

Such volatility isn't unusual for bitcoin, of course (which is why the FCA is concerned!).
Kyle Rodda, market analyst at IG, explains:



Perhaps betraying it wares as a risk-asset itself, Bitcoin and other cryptocurrencies are coming under selling pressure too today, as the upward momentum in prices begins to diminish, and even threaten to roll-over. Bitcoin is always a victim of thin liquidity, so much like last week, the dip so far seen in the cryptocurrency could be quickly bought come this evening when trading conditions become a little healthier.

Of course, after such an extraordinary rally in recent weeks, to historically overbought levels, Bitcoin is arguably another asset overdue for a pullback.
The agenda
2pm BST: Bank of England policymaker Silvana Tenreyro speech: Let's talk about negative interest rates
Updated

(Excerpt) Read more
Here
| 2021-01-11 01:31:00