To get John Authers' newsletter delivered directly to your inbox, sign up here.
Four Financial Questions for Passover
It's that time of year again. On Saturday night, the world's Jews sit down for a "seder" meal, to commemorate the exodus from Egypt. Jesus's Last Supper was a seder, so this is a rite of fundamental importance to two of the world's great religions. Early in proceedings, the youngest person has to ask four questions, about why things are different on the nights of Passover compared to all other nights.
For years now, I've tried to come up with four financial questions each Passover; questions that show contradictions in where financial markets have reached, and attempt to clarify the issues ahead of us. This year I've found it much harder than usual. This isn't because it's challenging to come up with questions, but because it's difficult to edit them down to four. We exited financial crisis conditions about a year ago, but much about the world of money is genuinely unprecedented. It's an overused word, but amply justified these days. Much of this can be attributed to our contemporary plague, a most unwelcome echo of the Passover story. But not all of it. 
Not only is it difficult to whittle down the questions; it's harder than usual to answer them. I hope what follows will be a useful stimulus to thought as many of us embark on a holy week, with Passover followed by Palm Sunday.
Why are stocks so incredibly high when they have scarcely ever been so expensive before, and our lives are still terribly affected by a pandemic?
Yes, stocks are really, really high, in the U.S. By far the best known measure of long-term valuation is Robert Shiller's cyclically adjusted price-earnings ratio. The latest reading is 35 times inflation-adjusted earnings for the last decade; higher than at any time since Shiller's data begin in 1880, bar the dot-com bubble, which isn't a reassuring precedent. This is the latest chart from his website: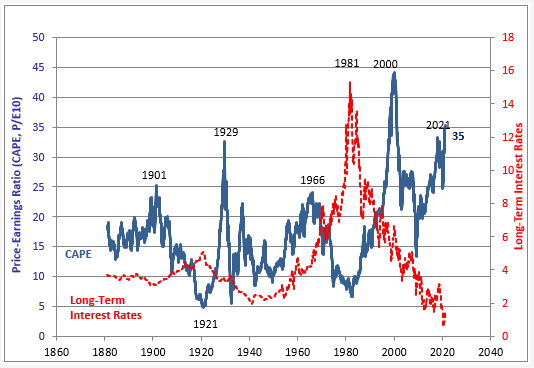 Shiller's chart includes long-term interest rates, which have just started to rebound from a historic low. Naturally, such rock-bottom rates are the main reason why stocks have reached such extreme valuations. But Shiller's excess CAPE yield, which tries to predict future relative performance by comparing stock earnings yields with those on bonds, isn't that exciting. At 3%, this measure isn't flashing any great signal to dive into stocks, although it certainly shows that buying now isn't as dangerous as it would have been at the top of the bubble in 2000: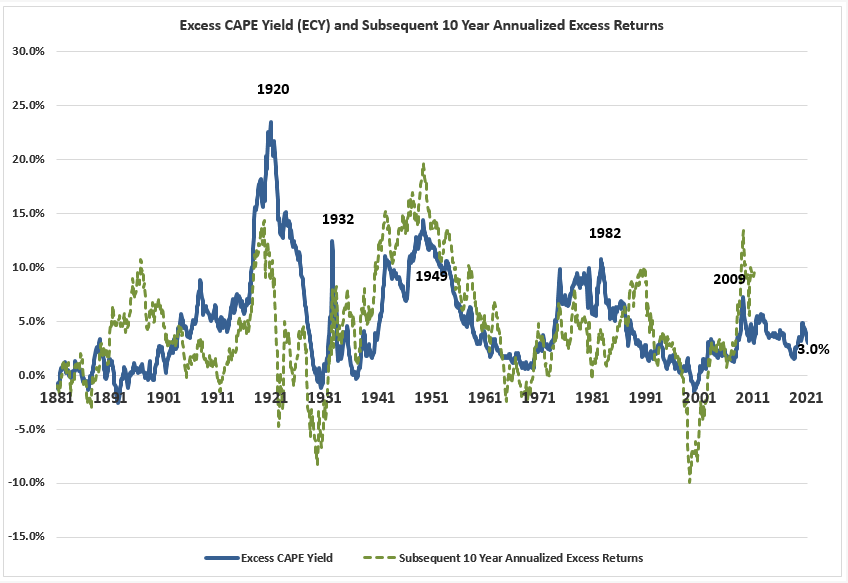 The rebound from last year's turmoil has come with indecent haste. As I showed earlier this week, this has been the best 12 months for the S&P 500 ever, and it is a massive outlier. On the face of it, this rally screams "unsustainable":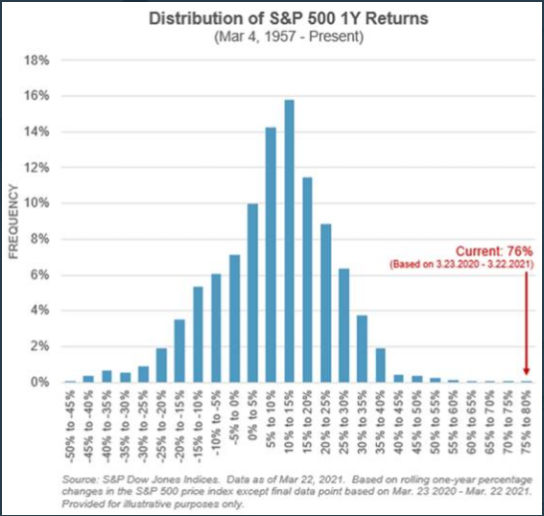 Earnings are recovering nicely, and there is quite an economic rebound in prospect (as I'll cover later). And the pandemic has scrambled perceptions and much very real data. It would be no surprise if markets, and economies, are overshooting in both directions. But there is only so far this can be taken. Shiller's data go back a long way. They cover plenty of economic booms and busts. Ultimately, stock markets at these levels can only be attributed to injections of liquidity on a massive scale. They were made to tide us through the pandemic shutdowns, but intriguingly they are continuing. This is the measure of global central bank liquidity injections kept by CrossBorder Capital Ltd. of London. They are at record levels, and haven't yet started to reduce.  

While this remains the case, it's hard for stocks to go down very much. It does rather raise the question of whether liquidity injections on such a scale can continue. That brings us to the next question:
Why are bond yields still so incredibly low when everyone is bracing for the return of inflation, and at all other times that means higher yields? 
Yes, yields have come back a lot, but that's only because they hit an historic low during a moment of existential panic in the early weeks of the Covid-19 crisis last year. That dip in yields looks like a true historical outlier. But if we look at the long-term trend for 10-year Treasury yields, which have been falling steadily ever since Paul Volcker worked his anti-inflationary magic in the early 1980s, they have room to rise further before they challenge the declining trend.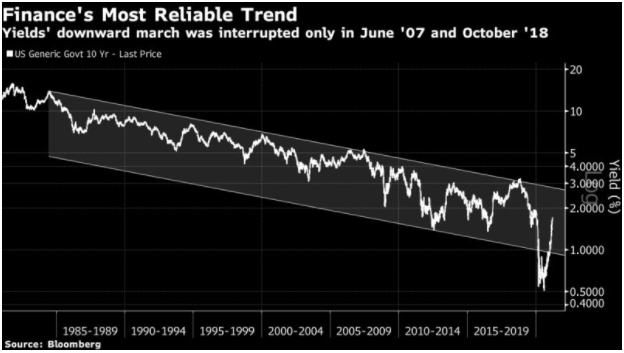 This seems extraordinary in the light of the borrowing being conducted by governments to pay for their pandemic-fighting measures, which should all else equal lead to higher yields, and in the light of the widespread belief that inflation is set to take hold again. So why are bond yields still historically low?
Earlier this week, I quoted my Bloomberg Opinion colleague Jim Bianco who said last March, as the Fed was rolling out its measures to bolster the market, that we had seen the virtual "nationalization" of the bond markets. He sent me this chart, to show that he had been right: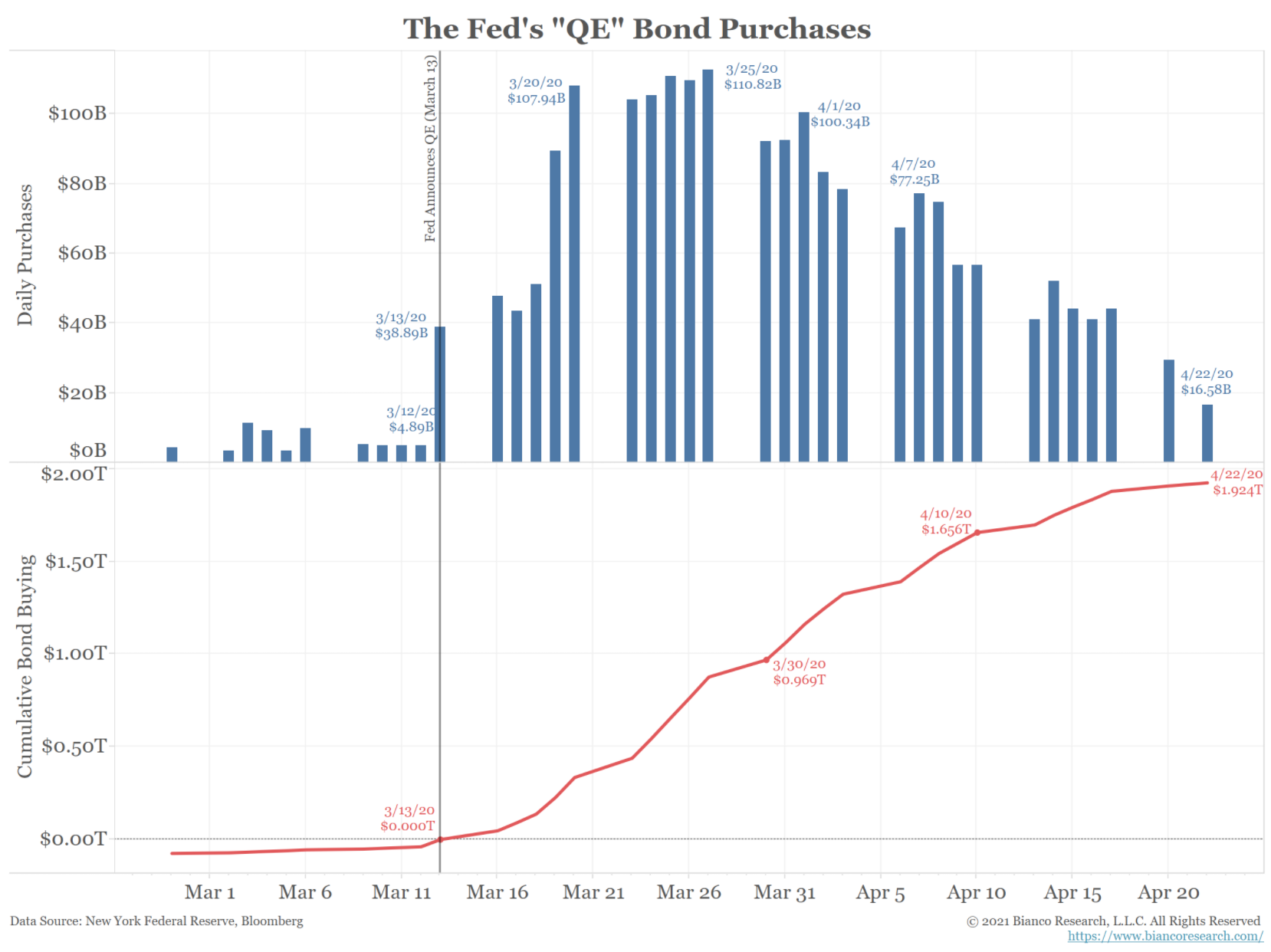 Buying on such a scale can fairly be called nationalization. While yields have picked up of late, and there has been much excitement over how far the Fed would allow yields to rise, the basic Fedspeak is clear. Bond yields aren't going to be allowed to rise to a point where they jeopardize the attempt to buy full employment, or to the point where they trigger a major selloff. With central banks so determined to keep the nationalized bond market under control, risks of suffering a big loss continue to be low, and people keep buying. But that leads to the next question:
Why are central banks and governments still trying so hard to stimulate the economy, when we are told the recession is all over and victory over the pandemic is assured?
This comes close to a Catch-22. If stocks are up because recovery is assured, then there is no need for further Fed assistance (or fiscal aid). And if we do have a recovery, then there is inflation ahead, which could mess up all our plans. Politicians and central bankers are plainly prepared to run the risk of inflation, and their gambit has divided economists. As this great round-up of their views by Neil Irwin in the New York Times shows, this is no longer the standard battle between left and right; economists who normally agree with each other, and normally back bigger spending, are growing very divided. 
Last year's economic stimulus to combat the virus was indeed huge, as this chart from Marko Papic of the Clocktower Group makes clear: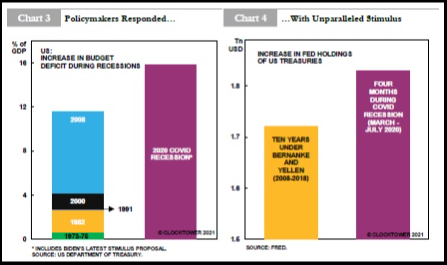 Adding fiscal stimulus makes this a measure unseen in peacetime. U.S. GDP growth is already at this point humming along at an annualized rate of 5.4%, according to the Atlanta Fed's Nowcast. That can be expected to increase. And yet the Biden administration seems determined to pump more money into the economy, now to work on improving infrastructure. 
To some extent, the answer to why the U.S. government is doing this — and it has analogues elsewhere in the world — is reasonably clear. Populist movements demonstrate that support for such policies is growing. Inequality is deeper than ever. Appalling statistics on deaths of despair showed that something was wrong long before the pandemic. At this point, perhaps it is best to believe the Fed, and the politicians currently running the U.S., that they really do mean what they say. They're making the judgment that unemployment has to be tamed, and inequality has to come down, whatever that means for inflation.
There are fascinating parallels with Franklin Roosevelt, not initially a fan of big government spending, who took office and decided to embark on the New Deal. Now Biden is also, to continue the Passover analogy, attempting to lead us all to the Promised Land. Such a radical departure may or may not work; that whole issue raises many more than four questions. But if we're clear that the government apparatus has decided to change the paradigm, spend in a way it hasn't done before, and risk inflation of a kind that hasn't been seen in a generation, a lot of other market judgments seem mutually inconsistent. If that's our future, low bond yields are going away soon. And if they don't, then inflation is coming back. A great economy, in which people want to buy things other than financial assets, isn't great for stock markets. And if this concerted attempt fails, and we are left with a very heavy and deeply indebted government presiding over continued slow and inequitable growth, that doesn't sound very appealing either.
Why is bitcoin at an all-time high, and when we still have no idea whether governments will allow it to persist?
Why even mention bitcoin? Because it is getting very big, and some of the easier assumptions about the cryptocurrency no longer look firm. The following chart, from Goldman Sachs Group Inc., compares bitcoin's performance over the last 12 months to some of the biggest bubbles in history. Note that the S&P 500 over the same period, on the same scale, looks horizontal, as does the Dow Industrials in the 12 months leading up to the Great Crash of 1929: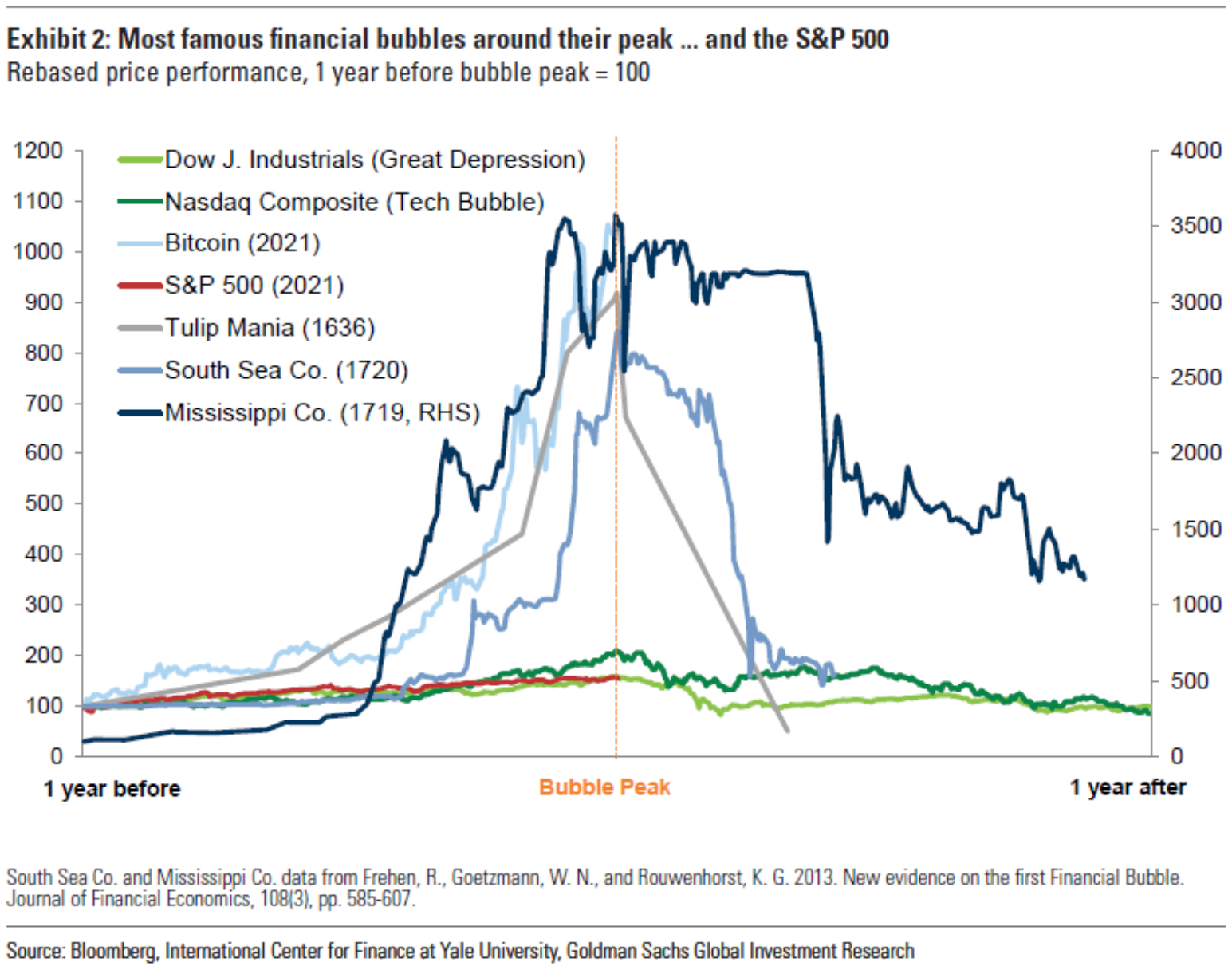 There we have it, it would seem. Bitcoin is a classic mania, that will need to go into the next edition of Charles Kindleberger's Manias, Panics and Crashes. A gain like that is ridiculous and completely unjustified, particularly for an asset whose underlying value is, if anything, even less well-rooted than that of a tulip bulb. I've had fun comparing bitcoin to Tulipmania myself, and the comparisons are obvious.
There is a rub, though. I wrote a couple of essays pointing out the parallels between bitcoin and tulip bubbles back in late 2017. That was when bitcoin was also in the grip of a historic bubble. In terms of its percentage rise, that bubble was even bigger than this one. And indeed, looking at bitcoin's price over the decade or so of its existence, on a log scale, we find that there have already been at least four other bubbles: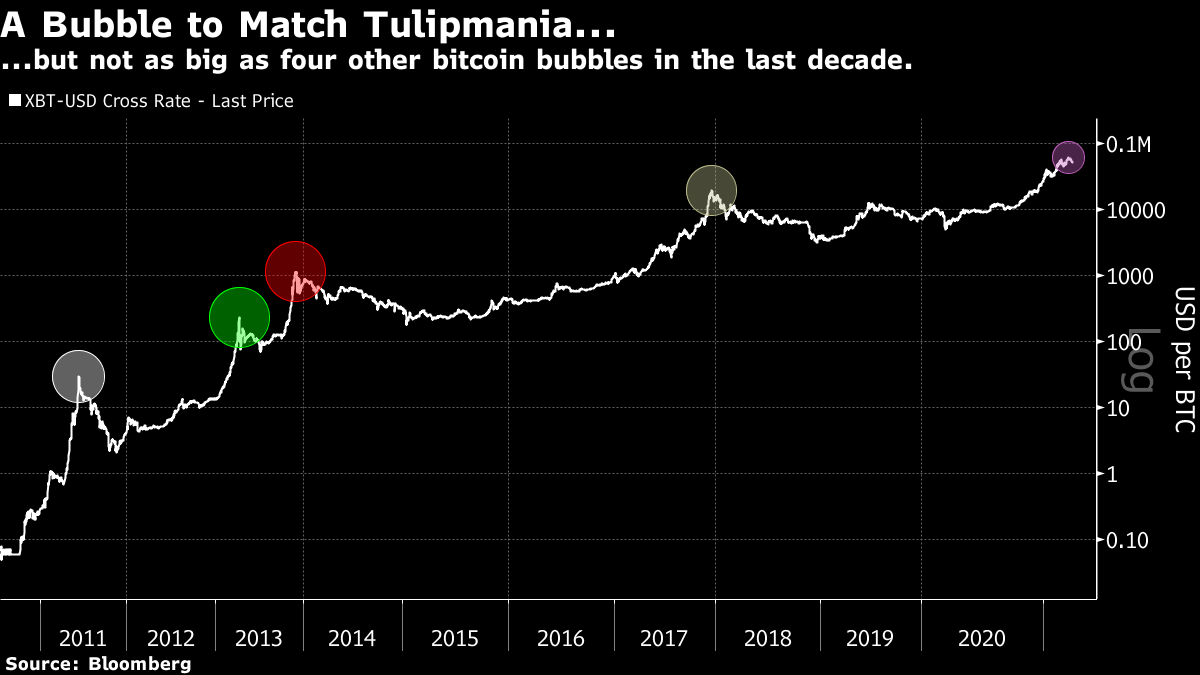 When all the other great bubbles in history burst, they stayed burst. The point of labeling the phenomenon a "bubble" is that bubbles must inevitably pop; they cannot deflate gently and then re-inflate. There has never, ever been any asset that has staged a series of bubbles, crashed after each of them, and after a while regrouped to stage another bubble, the way bitcoin has. Usually, you expect to wait a generation for another serious bubble to come along, after people who were burned the first time have left the scene.
We live in a world where central banks are growing ever more dominant actors in the economy. Governments maintain a monopoly over currency, and it is unlikely they will want to give it up. Bitcoin mining is a colossal waste of energy and computing power. But the bitcoin network is steadily spreading, and people are finding uses for it.
I still have plenty of problems with bitcoin. Many of those interested come across as evangelizers. It's never healthy to "believe" rather than "invest" in a financial asset. The narrative around bitcoin sounds a little too wonderful to be true. It's always possible for others (including central banks) to introduce their own cryptocurrencies. But all bitcoin skeptics have to accept that something new and different is going on here. It has a market cap of about $600 billion. That's only a third the size of Apple Inc., but it's a lot of money. 
All other bubbles on the scale of bitcoin led to complete collapse within a year, never to return. Bitcoin's bubble has burst four times, but never gone to zero, and then staged a comeback. How? 
Survival Tips
Some music for the seder nights and Palm Sunday is in order. First, to hear the four questions sung a capella by local heroes the Maccabeats, listen to this. Then to get in the mood for Easter, you can follow the events at the most dramatic seder ever held in the Last Supper scene from Jesus Christ Superstar. Judas explains why he decided to betray Jesus in Heaven on Their Minds, the opening song of the musical. And the whole story of Holy Week was told perfectly in Bach's St John Passion, as conducted by the great Nikolaus Harnoncourt.
Have a good week. Happy Easter. Chag Sameach.
To contact the editor responsible for this story:
Matthew Brooker at mbrooker1@bloomberg.net
(Excerpt) Read more
Here
| 2021-03-25 23:00:00